Hastings RSPCA cares for wind-hit gulls blown from nests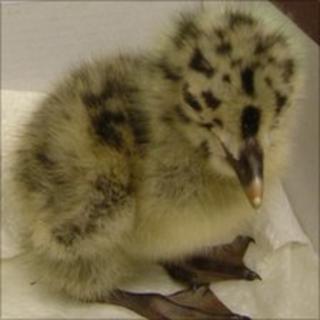 The number of baby gulls cared for at an East Sussex wildlife centre has soared after windy weather blew them from their nests.
The RSPCA said 70 newly-hatched birds have been brought into Mallydams Wood in Hastings in the past two weeks.
It said the number was double the normal average for this time of year.
Wildlife officer Richard Thompson said it was thought the recent blustery weather had caused the youngsters to be blown off rooftops.
'Real shame'
He said: "Tiny birds like this hatching at the same time as 30mph winds are whirling around the rooftops is really not a good combination.
"It is a real shame they have had such a shaky start to their lives."
Mr Thompson said most of the birds were doing well and should be strong enough to fly away soon.
Gulls traditionally nest high up and urban nesting sites include three-storey town houses and industrial buildings as high as 30ft (9m) tall.
Gull chicks begin to hatch in June and usually take from 30 to 35 days to fledge from an egg.
The birds are protected by the Wildlife and Countryside Act, which means it is illegal to kill them, their chicks or disturb their nests and eggs.