Seaford Moon of India waiter murder: man convicted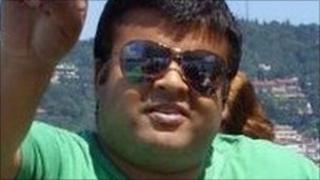 A 21-year-old man has been found guilty of murdering a restaurant waiter in a flat in an East Sussex seaside town.
Ahmed Remon Hayder, 27, was found dead in a flat next to the Moon of India restaurant where he worked, in Sutton Park Road, Seaford, in February 2010.
Shahadat Mollah Sohag, of no fixed address, was convicted of murder and aggravated burglary at Lewes Crown Court and will be sentenced on Friday.
Mr Hayder, known as Ray, had suffered severe head injuries.
Blood through ceiling
He had been running the restaurant while his parents were on holiday in Bangladesh.
His body was discovered when a worker in the office below the Sutton Park Road flat saw blood dripping through the ceiling.
Sohag was convicted in a retrial after a jury was discharged in the original trial last year.
Before the trial, Mr Hayder's cousin, Mohammed Anhar, 33, of Tower Hamlets, east London, admitted murder and aggravated burglary. He will also be sentenced on Friday.
At Lewes Crown Court, jurors heard Sohag had gone with Anhar to steal from the flat above the restaurant but had murdered Mr Hayder after finding him inside.
After the verdicts, Det Ch Insp Adam Hibbert said officers from Sussex Police had carried out a "meticulous investigation".
He said: "We were greatly supported by the Bengali communities in Seaford and London who assisted us in locating and arresting both men."
Mr Hibbert said he hoped that bringing the two men to justice would bring some comfort to the victim's family.