Queen honours Sussex Olympic medallist and photographer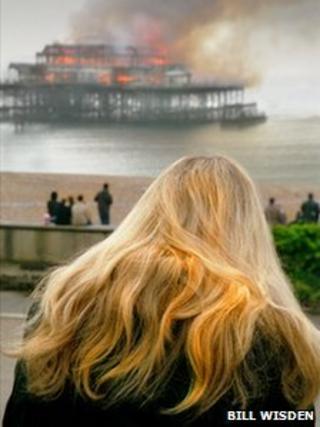 An Olympic sailing medallist and a Brighton-based photographer have been recognised in the Queen's Birthday Honours list.
Paul Anderson, who won a bronze medal in sailing at the Mexico City Olympics in 1968, is made an OBE.
Mr Anderson, of Winchelsea, has been recognised for services to Special Olympics Great Britain.
Bill Wisden, who is a Fellow of the Royal Photographic Society, is made an MBE for services to art.
President of the Royal Photographic Society, Rosemary Wilman, said Mr Wisden had been instrumental in helping hundreds of people attain the society's three membership distinctions - licentiateship, associateship and fellowship.
She added: "I am absolutely delighted, it is very well deserved. He has shared his passion for photography with anybody and everybody.
"He has helped hundreds of people with the [society's] distinctions. He has a natural gift of being able to support people.
"He's 80 now and the distinctions wouldn't be as they are without Bill. He's had a tremendous influence on these over the years."
Winston Churchill's grandson Nicolas Soames, who is Conservative MP for Mid-Sussex, has also been recognised in the honours list. He becomes a Privy counsellor.
University College London Professor of Particle Physics, Jenny Thomas, who is from Hove, is made a CBE for services to science.
Pop star Ferry, 65, who has a home in West Sussex, has enjoyed success as lead singer of Roxy Music and as a solo artist, with hits including Love is the Drug and Jealous Guy.
He said being made a CBE was a "great honour", and expressed thanks to "all the musicians and others behind the scenes who have helped me throughout my career".
Artist Sam Taylor-Wood, who directed the critically acclaimed film Nowhere Boy, which charts the early life of John Lennon, is appointed an OBE for services to the arts.
Croydon-born and Sussex-raised Taylor-Wood, 44, said: "It's such an incredible honour to receive this award - something I would never have dreamt of.
"It's very gratifying for an artist to get recognition at this level."
Ian Moncrieff Lowrie, chief executive of Adur District Council and Worthing Borough Council becomes and OBE for services to local government and English Wine Producers chairman Michael Roberts, of Hassocks, is made an MBE for services to the drinks industry.
Twenty other people in the county were appointed OBE.