Brighton Olympic torch cost fears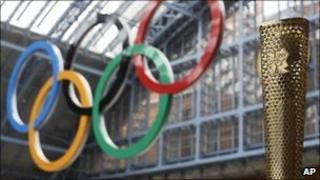 Fears about the cost of the hosting the Olympic torch relay next summer have been raised by opposition councillors on Brighton and Hove City Council.
The torch will stay overnight in Brighton on 16 July before moving on to Hastings the next night.
Labour leader Gill Mitchell said she feared the Green Party's commitment to facilitating protest would increase security costs for the event.
Green Ben Duncan said the priority was to ensure any protest was peaceful.
The Greens, who won minority control of the city council in May, have been criticised for saying that peaceful protests will be embraced by the new administration.
Ms Mitchell said hosting the Olympic torch relay was a great honour for Brighton and Hove.
"However, I do have concerns about recent statements from the Green council encouraging demonstrations in the city," she said.
"I am concerned that the council has given the green light to protesters and I do not want this wonderful event to be marred by additional protests that could cause additional expense to taxpayers," he said.
'Pragmatic approach'
Mr Duncan, cabinet member for communities, said the Green Party approach to protests had reduced costs in the few weeks it had been in power.
He said it had taken a "pragmatic approach" to a tented village of international protesters in Old Steine rather than evicting them from the park.
The protesters have agreed to leave on Sunday.
"I hope that peaceful protesters do come to Brighton and that they will spend money when they get here just like any other tourist," he said.
"Priority must be to preserve community safety and make sure that any protest is peaceful but it is not for a council to say what protests are allowed and what aren't allowed.
"That is a matter for the law of the land."