Sussex drink-drive campaign tests 1,500 drivers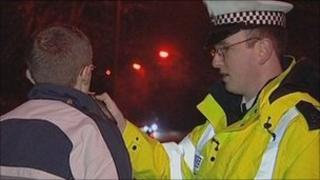 More than 1,500 breath tests have been carried out and 59 people arrested in the first 10 days of a summer drink-drive campaign in Sussex.
Two of the arrests followed collisions involving injuries and nine more in other collisions, Sussex Police said.
Nine people were arrested on suspicion of driving or attempting to drive while unfit through drink or drugs.
"We have removed these people who are a risk to themselves and other road users," said Chief Insp Di Roskilly.
"However, despite all of the publicity and messages about the danger of drinking or taking drugs and driving, some people are selfishly still choosing to drink and drive.
"Our message to these few is very clear - the odds are you will get caught."
Drink-driving charges
Those arrested since the campaign began on 1 June include a 37-year-old man found to be allegedly nearly four times over the drink-drive limit in Marine Parade, Eastbourne.
A 28-year-old man arrested in Seaside, Eastbourne, was found to be allegedly nearly four-and-a-half times over the limit.
Both were charged with drink-driving.
Nearly 100 breath tests were carried out in one night during a high-profile check carried out in Hastings.