Bognor Regis Butlins bug leaves 200 people ill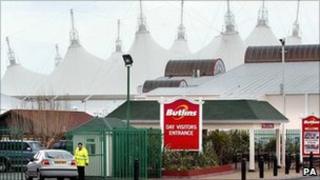 About 200 holidaymakers and staff at a Butlins holiday camp in West Sussex have been taken ill with a highly contagious vomiting and diarrhoea bug.
The norovirus outbreak struck the Bognor Regis site on Saturday night.
A spokesperson said most of those affected had left the resort, which had been at almost full capacity with 5,000 guests and 1,200 staff on site.
Butlins said it had "stepped up" its procedures of cleaning and sanitising to halt the spread of the virus.
It described it as a "fairly common" bug, but said there was no way of knowing how it started.
It is expected that those affected will get a full refund.
Bug 'contained'
Butlins said guests travelling to the site on Tuesday could move their booking to a different resort if they did not want to stay in Bognor Regis, or have the dates of their break rearranged.
A statement issued by Butlins said: "All guests at Bognor Regis who reported they had the virus have now left the resort.
"Our cleaning and sanitising procedures were successful in containing the spread of this common 24-hour bug with about 200 people affected out of 5,000 guests."
It said local health officials had visited the resort and were working closely with management and staff to eradicate the bug.
Butlins had been in close contact with the Health Protection Agency, it added.