Hospital father smother accused 'flew into rage'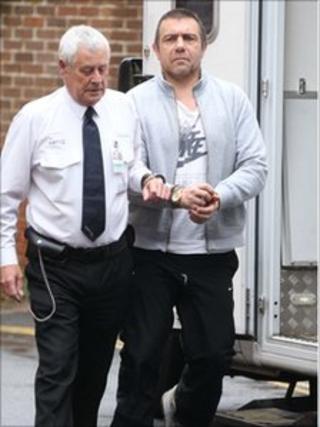 A Sussex man caught apparently trying to smother his terminally ill father had to be restrained in hospital by police using Taser guns, a court heard.
Joseph Peachey denies trying to murder Albert Peachey, 79, at Eastbourne District General Hospital in December last year.
Jurors heard the accused flew into a rage and assaulted a nurse, a security guard and two police officers.
Mr Peachey, 48, also denies one charge of affray and two charges of assault.
'Just die'
Prosecutor Richard Barton told jurors at Lewes Crown Court that on 20 December Mr Peachey told hospital staff: "I'm going to remove my father's oxygen mask as it's only keeping him alive."
He said a nurse heard him afterwards from behind a curtain telling his father "to just die" and that he would put a pillow over his face.
He was then alleged to have confronted nurses, swearing and telling them to take the oxygen mask off.
Mr Barton said senior staff nurse Robert Wilson subsequently discovered the defendant with one hand over his father's mouth and the other pinching his nose.
Jurors heard that Mr Peachey then flew into a rage, striking Mr Wilson and hitting a hospital security guard who came to assist.
Police, including firearms officers, also attended but Mr Peachey punched one officer and bit another, the jury was told.
Mr Barton said officers used Tasers to restrain him but he told them: "If I had a knife I would have sliced you all up."
Mr Barton said the defendant also lied to police about the alleged smothering incident, claiming he had been checking his father's false teeth.
Mr Peachey has already pleaded guilty to one charge of assault for punching Mr Wilson.
The case continues.