Hundreds of troops parade through Brighton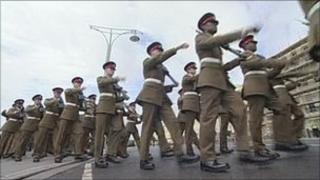 Hundreds of soldiers who recently served in Afghanistan and carried out duties at the royal wedding have paraded through Brighton.
The 2nd Battalion The Princess of Wales's Royal Regiment marched along the seafront and in the city centre from about 1200 BST.
The regiment was granted the freedom of the city of Brighton and Hove in 1996.
The parade is part of a series of marches through communities linked to the regiment.
On Sunday crowds cheered as soldiers made their way through Tonbridge.
The regiment also has the freedom of the borough of Tonbridge and Malling, which allows it to march with fixed bayonets, beating drums and colours flying.
People lined the streets of Brighton and Hove to cheer as around 240 soldiers marched with bayonets drawn.
'Wonderful opportunity'
The 40-minute event, which began at the Peace Statue on the seafront, was accompanied by music, including Sussex By The Sea, played by the regimental band.
Commanding officer, Lieutenant Colonel Adam Crawley, said: "We are a local regiment with strong links to the communities that we come from.
"We are conducting seven freedom parades across the South East and they are our way of reaffirming those links and showing the local people who we are."
Ahead of the Brighton parade, Simon Kirby, MP for Brighton Kemptown, said: "For people in Brighton to be able to show their appreciation for the fine work carried out by our armed forces is a wonderful opportunity.
"I believe our soldiers are the best in the world and their professionalism is always on show."
The Princess of Wales's Royal Regiment is the infantry regiment for Surrey, Kent, Sussex, Middlesex and Hampshire.
It is the most decorated of all British Army regiments, with 57 Victoria Crosses including the VC awarded to Lance Corporal Johnson Beharry in 2004 for his bravery in Iraq.