Your Paintings: Lewes avalanche painting on display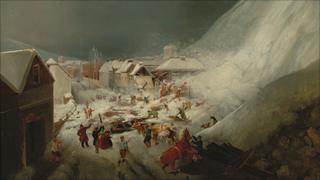 A painting on display in Anne of Cleves House, in Lewes, is one of thousands selected to be part of a major nationwide project called Your Paintings.
The Avalanche at Lewes shows the scene immediately after snows wiped out several houses on 27 December, 1836, killing eight people.
The artist's identity is unknown, but the painting was commissioned by Thomas Dicker, from Lewes.
It will appear on the Your Paintings website, which is a partnership between the BBC and The Public Catalogue Foundation.
The UK has an outstanding national art collection of 200,000 oil paintings, held in a vast range of public institutions.
But though they are owned by UK publicly-funded organisations, 80% of the paintings are not on display. They are either hidden away in storage, or are in buildings that the public cannot access.
Avalanche aftermath
That's why the BBC, in partnership with The Public Catalogue Foundation and collections across the UK, is launching the groundbreaking Your Paintings website in summer 2011.
The Lewes painting is on display in the castle and depicts the aftermath of an avalanche, which fell on parish poor houses in Boulder Row, burying 14 people. The disaster is commemorated on a tablet in South Malling Church.
The youngest survivor pulled from the snow was two year old Fanny Boaks and the dress she was wearing at the time is now in the museum collections.
The avalanche is further remembered in the name of the Snowdrop Inn built on the site in 1840.