Hospital smother accused Joseph Peachey 'wanted father home'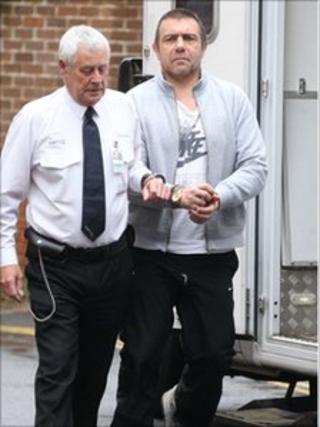 A Sussex man caught apparently trying to smother his terminally ill father has told a court: "I just wanted my dad home."
Joseph Peachey denies trying to murder Albert Peachey, 79, at Eastbourne District General Hospital on 20 December last year.
He admitted four charges of assault for attacking a nurse, a security guard and two police officers at the hospital.
He was eventually restrained by officers using Taser guns.
Taking the stand at Lewes Crown Court earlier, Mr Peachey's defence barrister asked him: "Did you want to end your father's suffering more quickly than nature was allowing."
He replied: "No."
The prosecution barrister told him: "The only reason you kicked off in such a significant way is because you were caught in the act trying to kill your father."
Mr Peachey replied: "No, I just wanted my dad home."
Albert Peachey, who was being treated for bowel cancer and a stroke, died on Christmas Eve as a result of his medical problems.
Earlier the court heard that a nurse at the hospital had walked in on Mr Peachey and found him with his hand over his father's mouth and his hand pinching his nose.
Jurors heard he then flew into a rage, striking the nurse and hitting a hospital security guard who came to assist.
Police, including firearms officers, also attended but Mr Peachey punched one officer and bit another, the jury was told.
Mr Peachey had initially pleaded not guilty to three of the four assault charges but changed his plea to guilty on Tuesday.
A charge of affray against him was dropped.
Mr Peachey insists that he had not been trying to suffocate his father but was in fact checking his mouth for his false teeth.
The case continues.