New Bluebell Railway museum at Sheffield Park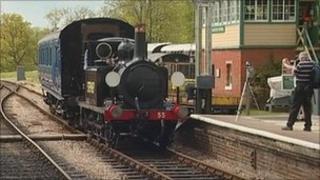 A grant of more than £2.8m from the Heritage Lottery Fund has enabled the Bluebell Railway in Sussex to open a new museum.
Lord Faulkner, president of the Heritage Railway Association, opened the attraction at Sheffield Park.
The museum is off the former waiting room on platform two.
The Bluebell Railway is part of the former Lewes to East Grinstead line and is planning an extension to the northern terminal.
The museum tells the story of the railway's history, from the battles to save the line from closure to today's fundraising activities to allow trains to run to East Grinstead.
The Bluebell Railway Preservation Society was founded in 1959 and began operating steam services on the line the following year.
The society is campaigning for the removal of waste from the Imberhorne Cutting and allow the the line to be connected to the national railway network.
The Bluebell Railway already has its own platform at East Grinstead station.