Littlehampton flypast to mark UK Armed Forces Day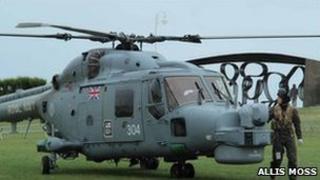 A flypast and military parade has taken place in a West Sussex seaside town to mark UK Armed Forces Day.
Littlehampton Town Council said a Chinook and Royal Navy Lynx helicopters took part in aerial displays.
The day began with a parade along the promenade at 1030 BST followed by a drumhead service on West Green.
The council said an artillery re-enactment display with field guns and vintage vehicles will take place later on East Green.
Street parties and parades are also taking place throughout the UK. The official host city this year is Edinburgh.
On Sunday in Bognor Regis, a series of displays and exhibitions are due to take place around the pier and Waterloo Square.