Brighton sea deaths 'not suspicious'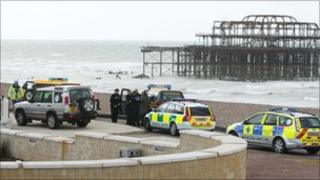 The deaths of two men whose bodies were found in the sea at Brighton are not being treated as suspicious, Sussex Police have said.
The first body, a white man who had been in the water for some time, was recovered at 1525 BST on Saturday.
The second, believed to be that of a Brighton man in his early 70s, was pulled from the water at 1730 BST the same day near Portland Place.
Police said there was no reason to believe the bodies were connected.
Officers are attempting to establish the men's identities.
The body of the Brighton man was recovered after he was seen to enter the water from a nearby groyne for reasons yet to be established.
Paramedics tried to resuscitate him but he was declared dead at the scene.