Tony Couchman: Murder accused 'not on suicide watch'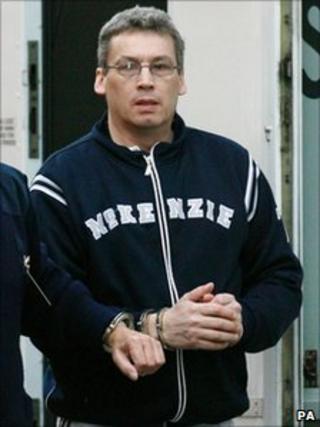 A man found dead in prison two days before he was due to go on trial for the murder of his daughter was not on a suicide watch, an inquest has heard.
Tony Couchman, 47, had a slashed arm and bled to death in his cell on the wing for vulnerable inmates at HMP Lewes, on 2 January 2010.
He was accused of murdering Victoria Couchman, 19, in May 2008.
The inquest was told Mr Couchman, of St Leonards, East Sussex, told a fellow prisoner he was feeling low.
Mr Couchman was initially placed under regular supervision as he was thought to be a suicide or self-harm risk.
But the inquest heard he was not being monitored at the time of his death because prison officers believed he did not pose a danger to himself.
'Blood everywhere'
Prison officer Andrew Clark said: "In all my discussions with him, he said that he was innocent and that he wanted to have a trial."
Mr Clark said Mr Couchman was "a bit quieter and a little withdrawn" but put it down to tiredness or missing family members over Christmas.
Mr Couchman had denied charges of murder and perverting the course of justice and was due to stand trial at Lewes Crown Court.
Miss Couchman's skull was found by children in Redgeland Wood, in the Queensway area of St Leonards, near Hastings, in October 2008.
Further human remains were later discovered near the scene.
Fiona Masters, who is the mother of Miss Couchman, asked prison officer Andrew Clarke: "If his trial was due to start in two days then why wasn't he watched more closely?"
The inquest at Eastbourne Town Hall also heard there was no "upcoming events book" to alert staff to trial dates, anniversaries or events that might cause inmates to want to harm themselves.
East Sussex coroner Alan Craze was told Mr Couchman could have lain dead for several hours.
Prison officers had looked into the cell twice - at 0530 and 1015 GMT - and had seen him lying on the bed but did not see any sign of blood or injury, the inquest was told.
The alarm was eventually raised by an inmate at about 1125 GMT.
'Ligature found'
Prison officer Heather Bryant, who was called into the cell, said: "When I went inside the cell it was very dark but I could see a naked body and there was blood everywhere.
"I could feel blood under my feet. Couchman was naked with his feet lying towards the door. I turned the body over and started CPR."
Prison nurse Caroline Brown said one razor blade was found stuck to his chest. Another was found later.
The inquest was told toxicology tests revealed that he was more than one-and-a-half times over the legal drink-drive limit and it could have caused a "degree of disinhibition".
Det Insp Ian Williams, of Sussex Police, said he may have made a previous attempt on his own life as a ligature point was discovered in his cell.
Mr Williams added: "There was nothing that gave me cause to consider that there was a third party involved.
"There were no defence injuries, no signs of a struggle and no overt signs that anyone else had been involved."
The inquest was adjourned until Tuesday.