Horses bee sting deaths at Nutley farm 'horrific'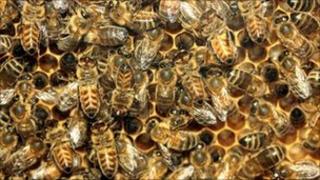 A family whose four horses died after being attacked by swarms of bees kept on their farm has said the loss of the animals was "absolutely horrific".
The horses lived on land at Hunters Farm in Nutley, East Sussex where owner, Anne Gerrard, also kept beehives in a fenced area some distance away.
It is believed two of the horses died from extreme allergic reaction.
The British Beekeepers' Association (BBKA) said horses and bees "don't generally make good neighbours".
The others horses were found dead in a pond and are believed to have drowned while trying to escape from the bees.
"I have been keeping bees for a couple of years and we have never had any problems with them at all," said Mrs Gerrard, who farms Sussex Cattle.
"It was a completely freak accident."
'Night of horrors'
She was alerted that something was wrong with the horses when one staggered past her kitchen window on 9 June.
She put him in the stable, rang the vet and went out to look for the others.
Two were dead in the pond and the fourth died in a field. The horse in the stable died later.
"It was a night of horrors," she said. "It has upset the whole family much more than you could ever imagine.
"They were part of the family and it has been a bereavement for us all."
Mrs Gerrard said she wanted to warn other beekeepers that hives should be kept well away from other animals.
"Nobody knows what happened, but some hives were damaged and the horses were obviously attacked by millions of bees.
"What we believe is that the horses have a very strong smell and bees don't like strong odours so they decided to attack.
"My advice for everybody is to please keep hives at least 100 yards away from horses and well away from bridle paths where people could be riding horses."
The BBKA has also warned people not to locate hives next to footpaths or bridleways.
A spokeswoman added: "We were sad to hear of the tragedy which caused the death of four horses in West Sussex.
"This is a rare occurrence-but horses and bees don't generally make good neighbours.
"Hives are at risk from horses breaking into the area where hives are sited and either rubbing against or kicking over hives.
"Once they are stung the odour of the sting can attract other bees to sting that animal leading to large numbers of stings as seems to have happened in this case."