Council pledges to help save Saltdean Lido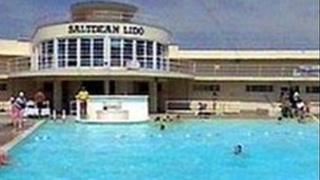 A pledge has been made by council leaders to save a Grade II* 1930s outdoor swimming baths.
A petition was launched in June calling on Brighton and Hove council to ensure Saltdean Lido was restored.
Campaigners wanted the authority to ensure the leaseholder maintained the building and opened it more often.
Now the council has said it has served notice on the leaseholder, wants the pool opened regularly and negotiations were ongoing.
Councillor Geoffrey Bowden, council cabinet member for culture, recreation and tourism, said: "The council shares everyone's passion for the lido.
"The argument is not about whether we save it, we all agree that we must, the debate is about how best to do it."
He said going through the courts would be expensive, slow and might not work.
New facilities
He added: "We are determined to work with all those involved to protect and enhance the lido for the future."
In March the Department for Culture, Media and Sport agreed to raise the status of the lido from Grade II to Grade II*.
The leaseholder wants to build flats on the site.
Campaigners say the lido is one of only three left by the sea and it should be restored to its former glory.
But Dennis Audley, who has leased the pool from the council for more than 10 years, has said it has lost more than £250,000 over five years.
He wants to create an all-year leisure facility for the community as well as the flats, by removing the pool, but building new facilities including a library.