Armed men in Saltdean Co-op store robbery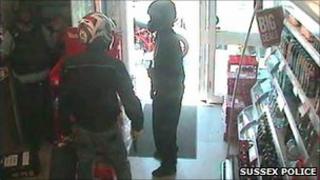 Two men armed with a gun and a crowbar threatened staff during a robbery at an East Sussex supermarket.
The men carried out the raid at the Co-op store in Lustrells Vale, Saltdean, at about 1200 BST on Monday.
They threatened security guards delivering cash to an ATM inside the store with a handgun and stole a cash box containing thousands of pounds.
Police said they would like to speak to anyone who was in the store around the time of the attack.
The two security guards were told to return to their transit van and the man, armed with the handgun, attempted to enter the vehicle.
The female security officer inside the van activated the alarm and the two men left on the back on a motorcycle.
The rider of the motorcycle was wearing a black top and dark jogging bottoms and a black helmet.
The other man was dressed in jeans, a black jacket and wore a red and white motorcycle helmet.
No-one was injured in the attack.