Worthing deputy head given medal for bravery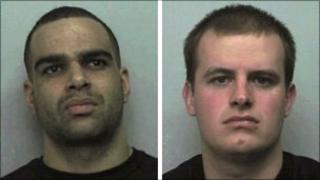 A deputy head teacher who helped catch two armed robbers who hid in a West Sussex school has been recognised for her bravery.
Sue Smith approached one of the robbers inside the Vale First and Middle School in Worthing, directing him to the front of the building and the waiting police.
Her actions moved the robber away from children inside the school during the incident in March 2010.
Police chiefs presented her with a silver medal at a national ceremony.
"I am extremely honoured to have been nominated for this award," she said.
"At the time of the incident I did not consider my actions to be especially brave, my first and only thought was the safety of all the pupils and staff in my care."
The robbers, Dominic Mendy and Danny Palmer, were given indeterminate jail sentences at Chichester Crown Court in August.
Sussex Police said they ran into the grounds of the school after they robbed a security van at a Tesco store in Chichester.
The Association of Chief Police Officers awarded the silver medal on Tuesday evening in Harrogate.
It also awarded bravery certificates to two members of staff at a jeweller's in Battle, East Sussex who helped capture a robber attempting to steal from the shop.
Susan Jenner and Maria Swain were assisted by passer-by Gary Lucas, who also received a bravery certificate.
"The brave actions of these four members of the public helped Sussex Police capture and convict some dangerous robbers," said Supt Neil Honnor.
"I commend and thank them."