Hoax 'disrupts' Shoreham air crash rescue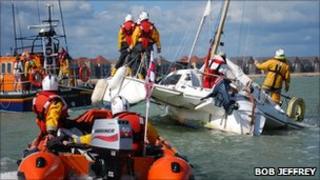 Emergency services responding to an air crash in Shoreham on Monday were disrupted by a hoax call, a Sussex lifeboat crew has said.
Eastbourne lifeboat spent three-and-a-half hours at sea searching for a Spanish yacht reportedly in trouble.
The crew was using the same radio frequency as those dealing with the Shoreham air crash at the same time causing disruption to communications.
The hoax call was traced to a Spanish student by coastguards and police.
Solent coastguards who had deployed the Eastbourne lifeboat were also co-ordinating Shoreham lifeboat and Shoreham coastguard rescue teams after the air crash, in which part of one of the planes landed on the beach.
Mark Sawyer, coxswain of the Eastbourne lifeboat said: "We were working on the same frequencies so there were communication problems and we were 'bleeding' over each other. It did cause problems."
'Wrong place'
The crew of the Eastbourne lifeboat has also warned that responding to hoax calls could cost lives if the lifeboat is needed for a real emergency elsewhere.
Bob Jeffrey, a volunteer with the RNLI, said: "A member of the public could have lost their life because we were in the wrong place."
The RNLI relies on donations to fund the lifeboat service and the fuel alone for the call-out cost £350.
"Disruption to the station is a major problem.
"The coastguards and the police will follow it [the hoax call] up, and as in this case the people were identified and they will be dealt with by the police," he said.
A 63-year-old pilot was killed when his light aircraft collided with another plane in the air and crashed near Shoreham Airport on Monday.
The plane crashed into Adur Recreation Ground and caught fire.
The other aircraft involved, a Diamond DA40, landed safely. Its two crew were shaken but uninjured.
Sussex Police said the dead pilot tried to avoid local houses before crashing.