Edna Beck gets Asbo for 'Nazi' abuse of Hove neighbours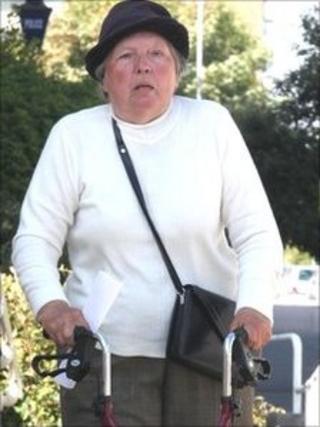 An 80-year-old woman accused of hurling anti-Semitic, racist and homophobic abuse at neighbours has been given an Anti-social Behaviour Order (Asbo).
Edna Beck subjected her neighbours in Hove to "intolerable" behaviour, Brighton Magistrates' Court was told.
She had been overheard shouting "Sieg heil", performed a Nazi salute at her neighbour and goose-stepped behind a visitor, prosecutors said.
Local authority officials welcomed the interim Asbo granted to Beck.
Mike Tyler, prosecuting for Brighton and Hove City Council, said young children had been left frightened after she called them "Hitler's children" as they played in the garden.
'Soiled underwear'
He said: "She has thrown items at a flat door and deliberately littered the communal hall.
"She has thrown items, including broken glass and empty alcohol bottles, out of her window into the area of the basement flat.
"On one occasion she threw out her soiled underwear."
Beck also deliberately set off fire alarms and left the building insecure by leaving the communal door open at night, magistrates heard.
The court heard although she is believed to be partially deaf, Beck is understood not to be mentally ill and treats her behaviour as "a joke".
Mr Tyler said: "Whilst it is accepted that Miss Beck is a lady of some not inconsiderable age with perhaps a propensity towards alcohol abuse, she has caused significant anti-social behaviour over a lengthy period of time."