Sussex drink-drive campaign: 161 arrests in 30 days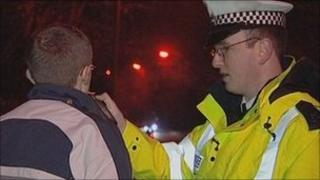 A total of 161 motorists were arrested on suspicion of drinking or taking drugs and driving during a month-long Sussex Police campaign.
The force said officers stopped and breath tested 4,229 drivers in June, including 308 people following crashes.
During the crackdown 12 motorists were arrested between 0600 BST and 1000 BST.
Sussex Police said the breath test failure was lower than the same period in 2010 when 3,298 drivers were stopped and 152 people arrested.
Ch Insp Di Roskilly, of Sussex Police, said: "We are pleased with the results of this campaign which suggest more people are choosing not to mix drinking or taking drugs with driving.
"However, in just one month, 161 have been arrested and that is too many people who clearly blatantly disregard the law and are prepared to gamble with their lives and the lives of others.
"We will continue to focus our efforts on removing them from the roads of Sussex before they cause harm."