Lancing furniture factory damaged in fire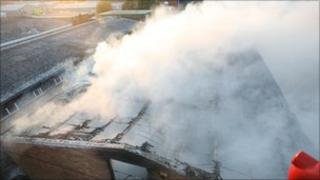 A furniture factory on an industrial estate in West Sussex has been badly damaged in a blaze attended by more than 40 firefighters.
Emergency services were called at 1945 BST on Saturday to the fire in Peter Road, Lancing, where about eight industrial units are sited.
At its height, eight appliances were at the scene. Sections of the corrugated roof shattered in the heat.
There were no injuries but fire crews had to be withdrawn to safety.
Offices saved
The gable-end wall of the building showed signs of collapse after fire spread to the whole factory area.
West Sussex Fire and Rescue Service said firefighters concentrated on saving the offices at the front of the premises.
Two crews remained on the scene on Sunday morning damping down and helping fire investigators.
Fire officers are examining the remains of the building for establish the cause of the blaze.