Bognor and Worthing Birdman contests drop top prize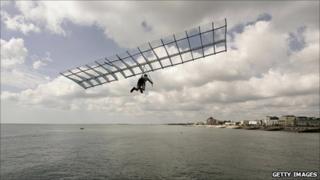 It was a prize befitting any aviation pioneer - £30,000 for the person who could jump of a Sussex pier and fly unaided 100 metres.
But now the top prize for both of Sussex's birdman competitions, in Bognor and Worthing, has been scrapped.
The competitions involved entrants building homemade gliders, from the serious to the ridiculous, and attempting to fly off a pier.
But insurers, who would have paid out if anyone flew the required distance, have drastically raised premiums after a competitor came within 20cm of reaching the target in Worthing.
So far no one has hit the 100 metre mark since the competition began in 1971.
Organisers of the International Bognor Birdman competition, which takes place on 16 and 17 July, will now award a trophy if anyone reaches 100 metres.
And the Worthing International Birdman competition - the Bognor version's chief rival, which began life in 2008 - will reduce its prize to £10,000.
Barry Jones, chairman of the Bognor Birdman, said: "We've been insured all this time and the insurance company never had to pay out but the moment there was the slightest risk they increased the premium to an unacceptable level."
Bognor v Worthing
The original birdman competition was moved to Worthing for two years in 2008 amid fears over the safety of diving off a shortened Bognor pier.
But when the event returned in 2010, the Worthing version remained.
Mr Jones, who has been barred from entering his own competition because he cannot swim, said the insurance premium was upped from roughly £2,500 to more than £8,000.
"I hope one day we will fly 200 metres and then 500 metres," he said. "I hope one day they will take off from the pier and have designed a craft that carries on forever.
"The entrants use proper science, some are barmy but they are intense. Presumably the Wright brothers had to be when they built the first aeroplane."
The organiser of the Worthing event, Sharon Clarke, described it as quintessentially British.
"Last year we had Eddie the Eagle ski off the pier," she said.
"People want to see others make fools of themselves but it's such fun and great for charity."
She added that despite some initial reservations the Bognor and Worthing events were not in competition with each other.
"If we work together I think it will promote and make both events more popular - it's pointless fighting," she said.