Dry spring sees Sussex eel numbers fall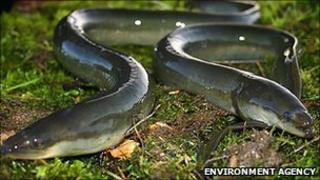 Low numbers of endangered eels have been seen in Sussex after a dry spring, the Environment Agency has said.
The agency said low numbers of elvers, or young eels, had migrated from the sea to fresh water in Pevensey Levels.
European eels spawn off the US coast and then return to mature in European rivers. Numbers have fallen by more than 95% since before 1980.
In Sussex, the Environment Agency said low rainfall this year could have disrupted their life cycle.
To give the elvers a helping hand, it has installed culverts, or man-made channels, in smaller streams at Pevensey to enable them to swim up to the deeper waters where they can grow to adult size.
'Drought continues'
European eels are listed as a critically-endangered species.
An unusually dry spring left some rivers and canals with very low water levels, which put migrating elvers at greater risk from predators, the agency said.
The elvers also find it harder to swim upstream when water levels are low, so dry conditions increase the risk of young eels dying of exhaustion.
The dry spring in England and Wales was followed by normal levels of rainfall in July, the Environment Agency said.
But Trevor Bishop, head of water resources, said: "The recent rain and unsettled weather has certainly helped the environment, farmers and water companies but some parts of the country are still in drought."