'Elvis' suspect raid links in Brighton and Eastbourne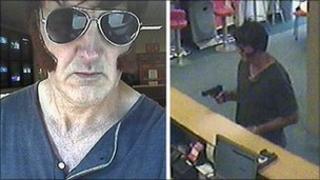 The robberies of two betting shops by an armed man wearing an Elvis Presley-style disguise and a false beard are being linked to two other raids.
Police believe the man is responsible for two betting shop robberies in Eastbourne and two in Brighton and Hove in the past two weeks.
In all but one of the robberies, he wore an array of disguises including false beards, sideburns and moustaches.
He was also carrying what looked like an imitation black handgun.
No staff or customers were injured in any of the incidents.
The most recent robberies happened within 12 hours of each other in Eastbourne.
The suspect is described as white, between 5ft 11in and 6ft 2in tall, of medium to large build with a bald or shaven head, which is often covered by wigs or hats.
'Dark sunglasses'
In all offences, except the most recent Eastbourne one, the suspect was carrying a bag - either a rucksack, shoulder bag or drawstring bag.
On Sunday, at 2050 BST, a man wearing a false brown moustache attempted to rob Betfred in Cornfield Road, threatening a female member of staff with what was believed to have been an imitation handgun.
Police said she ran into a back room and locked the door, and the raider left the bookmakers empty handed.
Sussex Police said the same man then robbed Ladbrokes in Gildredge Road, Eastbourne, at about 0840 BST on Monday.
He escaped with an amount of cash after pointing a hand gun at a member of staff.
Police said they believed the same man was responsible for an attempted robbery of William Hill bookmakers in George Street, Hove at about 0825 BST on 7 July, at which he wore a false beard.
He is also linked to a robbery at Ladbrokes in Dyke Road, Brighton on 11 July, in which the suspect wore false sideburns and dark sunglasses. He fled the scene with between £400 and £500.