Lead stolen from Eastbourne war amputee's business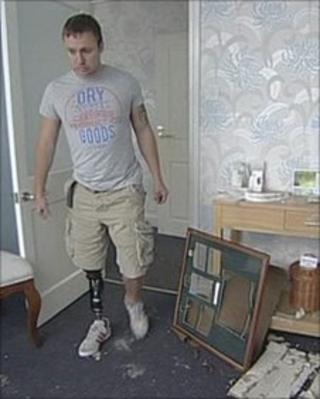 Lead thieves have targeted a business set up by a former soldier who lost his leg while serving in Afghanistan, causing damage estimated at £30,000.
Chris Howard, who also lost part of his hand in an explosion in Helmand province, set up the funeral parlour in East Sussex with £80,000 compensation.
He discovered lead had been stripped from the roof on Monday after heavy rain caused water to pour in.
Sussex Police said an investigation was under way and appealed for witnesses.
Mr Howard was injured in August 2009 and invested his compensation in the funeral business in Seaside, Eastbourne.
He runs it with his mother, Donna Payne, a mortician at Eastbourne District General Hospital.
About two tonnes of lead was stolen, worth about £3,000.
"It is just disrespectful - not just to us, but also for the people who come here and want their husbands, wives, sons and daughters to rest," he said.
"But we will keep going. We are going to keep open. No surrender."
Ms Payne said the theft was a knock back for the family. "But we've had worse," she said.
Sussex Police said it was a distressing incident and an officer had visited Mr Howard.