RSPCA appeals over Worthing birds 'shot with air rifle'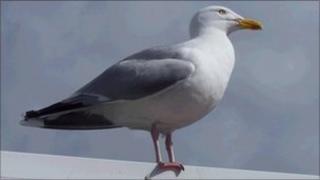 Seventeen birds found dead in Worthing in the past few weeks have been shot with an air rifle, the RSPCA has said.
Two dead baby seagulls were found on the roof of a block of flats in Durrington Gardens on Wednesday.
RSPCA inspector Tony Pritchard said in many cases the shot birds did not die straight away but were badly injured and "suffering terribly".
He said it appeared that a local person was going out "systematically wiping out the birds" in the area.
'Sickening for residents'
Mr Pritchard said the wildlife charity had also been called in to remove other dead birds from a tree and a gutter in the area.
And he said dead birds were still on the roof of the block of flats because it was impossible to get up to remove them all.
He said: "It's quite sickening and disturbing for the people living there, because over the past few weeks, they come out in the morning and find another dead or badly injured bird that then subsequently dies.
"These birds aren't being killed outright in a lot of cases. They are suffering horribly."
Mr Pritchard also said all the birds had been found in and around a single block of flats.
It is thought that someone local to the area has been carrying out the killings, he said.
The RSPCA inspector said he could understand that a person may have got an air rifle for the first time and shot a bird accidentally.
But he added: "To go out systematically wiping out the birds in that local area, seems to be what they are doing."
All the birds killed at the flats near Durrington Station had tended to be bigger birds such as herring gulls, wood pigeons, doves and magpies, he said.
The charity has warned people that shooting wild birds is illegal and the culprit will be prosecuted if caught.
Anyone with information on the incidents is asked to contact the RSPCA.