Eddie Kidd may lose 24-hour care after needs assessed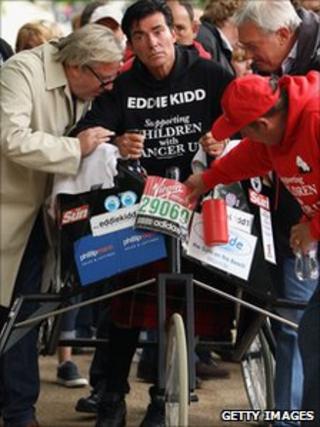 Disabled former daredevil Eddie Kidd could have his care severely reduced by his local council which is reassessing his needs, his family have claimed.
His wife Sami said East Sussex County Council was reviewing his 24-hour care package and he could possibly lose his night time help.
Mr Kidd suffered severe head injuries during a motorcycle rally in Warwickshire in 1996.
A spokesman for the council said he could not comment on individual cases.
Mr Kidd, who lives in Peacehaven, East Sussex, has severely restricted co-ordination and speech, but over the past seven years he has fought to regain some of the mobility he lost.
This year he completed the London Marathon, walking a mile a day with a specially adapted frame in aid of the charity Children with Cancer UK.
But his family said he still requires around the clock care.
'Charity work'
"Eddie would never be able to go away with his family or go on holiday, but the most important thing is that it would remove his ability to continue to do his charity work, which he does most weekends and in the evenings," Mrs Kidd said.
"You couldn't leave Eddie on his own and also if they removed his care it would be the night and weekend care so I would be awake all night to help Eddie to the bathroom.
"It would leave me physically too drained to hold down a job during the times he may have the care."
Mr Kidd first stunned spectators and fans in December 1979, when he jumped 80ft (24m) across a derelict railway bridge in Essex on a 400cc Yamaha.
Kidd's achievements culminated in 1993 when he jumped the Great Wall of China and beat Robbie Knievel, son of Evel Knievel, to the stunt bike world championship.
A spokesman from East Sussex County Council said: "To ensure that everyone is treated fairly an assessment is made of an individual's needs and of their financial situation.
"This ensures that resources are used effectively and as many people are helped as possible.
"While we cannot comment on individual cases, particularly if the assessment process is still ongoing, we talk to individuals and families about the various options available".