War hero Johnson Beharry gets honorary degree in Sussex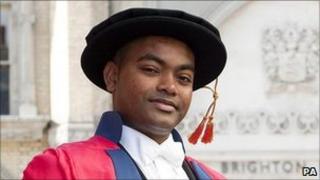 A soldier who rose to fame when he was awarded the Victoria Cross has received an honorary degree from the University of Sussex.
L/Cpl Johnson Beharry joined hundreds of students graduating at the Brighton Dome in Castle Square for the ceremony.
He was awarded an honorary doctorate in engineering in recognition of his support of the university's automotive engineering students.
L/Cpl Beharry, 31, described it as "a special moment" in his life.
He told the audience: "I'd like to say that standing up here before you all is more scary than it was being in Iraq.
"It was easier being shot at than reading this speech."
He added: "There have been two special moments in my life - getting the Victoria Cross and, second, receiving an honorary degree from the University of Sussex."
Serious injuries
L/Cpl Beharry was awarded the Victoria Cross - the highest military award for valour - for two acts of outstanding gallantry whilst based in Iraq in 2004.
He received it from the Queen at Buckingham Palace in 2005.
At the time he was the first soldier to be honoured with the Victoria Cross since the Falklands Conflict.
Born in Grenada in the West Indies, L/Cpl Beharry twice led comrades to safety during attacks in the town of al-Amarah in May 2004, suffering serious injuries.
In the first incident he guided a five-vehicle convoy through a mile of enemy ground to drop off wounded comrades.
Weeks later, his vehicle was hit by a rocket-propelled grenade. Despite suffering a serious head wound, he managed to reverse his Warrior to safety.
L/Cpl Beharry is patron of Mobil 1 Team Sussex, a team of students who build and race their own car at Silverstone as part of the national Formula Student contest.