Arun civic regalia found at car boot sale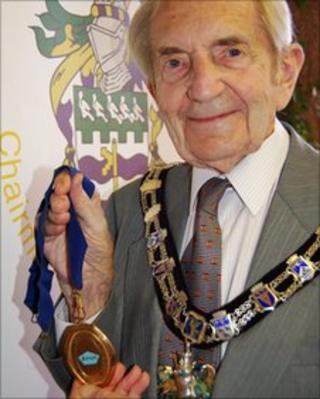 A ceremonial badge worn by the first chairman of a West Sussex authority has been returned to the council after being found at a car boot sale.
The Arun District Council badge, which dates from 1973 when the council was created, was found at a car boot sale in Ford by Councillor John Charles.
He paid £3.50 for the lead badge, which was in its original box.
It is not known how the badge, which is not thought to have a high monetary value, came to be in the car boot sale.
"I saw the red box and thought its contents might be interesting," said Mr Charles.
"I could not believe my eyes when I saw what it was."
The history of the badge was traced by the council's chief executive Ian Sumnall, who found it was first worn by Councillor Leslie Walwin, chairman of the council from 1973 to 1975.
"It's incredible that, after all this time the first ever chairman's badge, which we never even knew existed, should find its way back to the authority via a car boot sale," he said.
The council said the badge's origins were a mystery but it bore no resemblance to the current elaborate, gold-plated civic regalia.