Brighton binmen boycott Moulsecoomb Way after assault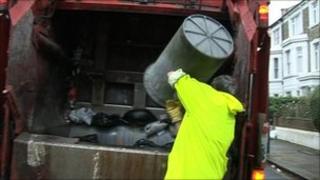 Refuse collectors are threatening to boycott a road in Brighton after a binman was assaulted for refusing to take extra bags.
Their union says they will refuse to collect rubbish from Moulsecoomb Way unless they get safety assurances from the city council.
The GMB union says its members are following instructions to collect only the bins and not additional sacks.
But some householders are unhappy that some of their rubbish is being left.
GMB representative Mark Turner said one of his members had been punched in the face on Monday after rejecting the bag left beside a wheelie bin.
He told the BBC: "That's an instruction that the workforce is operating within the city.
"If residents aren't happy with that, they should take that up with their local councillors or with the council direct, but not physically assault our members because they are providing a service within the wider community."
He said the union was waiting for Brighton & Hove City Council's response.
"If the assurances do not come before the time our members go to that area again, there is every likelihood, under the health and safety regulations, that they do not collect from that area."
A council spokesman said a manager would accompany the crew the next time they collected from the area.
"Thankfully physical assaults on staff are uncommon, but no-one who is carrying out their duties should be subjected to this kind of behaviour," he said.
"Our staff do a difficult job and we will not tolerate them being abused."
Sussex police said a 51-year-old man had been arrested at the scene and later cautioned for battery.
"His 31-year-old victim was uninjured, but shaken by the assault."