Christmas Island H-bomb witnesses tell of medical problems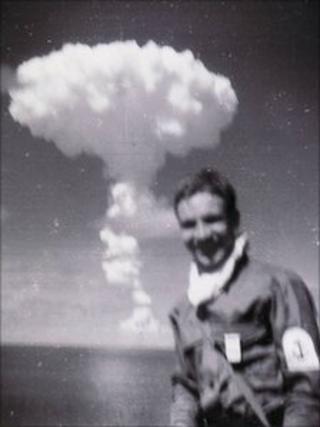 "It was an amazing sight, a cauldron of fire - like seeing a mini-sun being born."
George Baulch was one of thousands of people who witnessed the British atomic tests on Christmas Island in the 1950s.
For a 23-year-old, the sight of an atomic explosion in the Pacific Ocean was glorious.
But in the decades that followed, life for him and the many others who witnessed the tests has been anything but.
Many veterans have blamed the radiation for chronic health problems, including infertility, cancer and birth defects in their children.
However, the Ministry of Defence [MoD] maintains no "causal" link can be proved.
Despite having several requests for compensation turned down, on Thursday the Supreme Court granted leave for veterans to appeal in their fight for compensation.
Mr Baulch, from Bexhill, Sussex, was onboard HMS Warrior, an aircraft carrier sent to the Pacific Ocean in 1957, when he witnessed three separate atomic explosions.
'Like an X-ray'
He said he was told to put on dark glasses and put his hands up to cover his eyes while waiting for the bomb to detonate.
"When it went off, first of all there was the flash and I saw the bones in my hand like an X-ray," he said.
"The sound came at a different speed, it was rumbling like thunder.
"Then we were allowed to turn around and look at the explosion.
"It was pulling a big trunk of water upwards and, when it fell down, it caused a small tsunami, which rocked the ship terribly.
"Where we were positioned we saw birds and seagulls, which had been blinded by the flash, flying around aimlessly and falling in the water."
Despite his excitement at the time, life has been hard since.
One of his daughters was born with severe learning disabilities, which Mr Baulch blames on the radiation. She died in her 30s of unexplained reasons.
"The MoD throws so much money about, but they are refusing a small amount to veterans - they are not asking a lot.
"At the same time it makes you feel there is something else beyond that.
Multiple lesions
"I think we were part of one big experiment and it's still carrying on - seeing what happens when we die and what happens to our children."
Malcolm Pike also served on HMS Warrior and witnessed the tests.
He and his wife Margaret had one daughter before he left for the tests, but were unable to have any more children after he returned.
Throughout his life he has had multiple lesions removed from his body, a condition he has attributed to exposure during the tests.
As one of the 1,011 veterans who are seeking damages against the MoD, he said he was "delighted" by the Supreme Court ruling.
"Hundreds of them [veterans] have died already," he said.
"It's a pretty sorry state that this country has let itself get into."
Veterans could have to wait until the end of 2011 before the Supreme Court hears their appeal.
If judges rule that their claims can go ahead, a hearing for damages would take place in the High Court.
A spokesman for the MoD said: "In arriving at its judgment last year, The Court of Appeal also considered, to some extent, the merit of the claims in terms of causation and concluded that the general merits of the claims were extremely weak.
"We recognise the invaluable contribution of all service personnel who took part in the nuclear testing programme. We are grateful to them for the part they played in ensuring UK security."