Thousands of people celebrate Crawley's annual Mela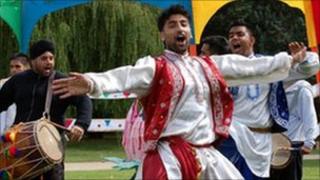 Thousands of people have been enjoying the sights and sounds of Crawley's annual Mela festival.
The event which includes music, dance, arts, story telling and crafts has been held at The Hawth on Saturday and Sunday.
This year the Mela included a 15-piece Romany band, an Indian dance production and a belly dance team.
Crawley has hosted a Mela celebrating its different community and faith groups every year since 1989.
A spokesman for the Mela said about 5,000 had attended the event on Saturday and a similar figure was expected on Sunday.