Hastings Jerwood Gallery opening delayed to 2012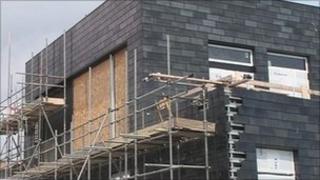 The opening of an art gallery intended to help regenerate an East Sussex seaside town has been put back to next year after delays in construction work.
The £4m Jerwood Gallery in Hastings has been built to showcase the Jerwood Collection of British paintings.
Gallery-funders The Jerwood Foundation said the decision was made some time ago.
Director Liz Gilmore said it was thought an opening early in 2012 would be better than at Christmas.
"At Christmas time there's a lot of other focus and we couldn't predict the weather," she said.
The new gallery is part of a £9.5m redevelopment of the Stade area on Hastings seafront.
A performance space, a cafe, community education facilities and toilets outside the gallery is being funded by Hastings Borough Council.
People 'care'
Council spokesman Kevin Boorman said it had been clear for some time work on the gallery was behind schedule.
"We thought the opening was going to be late 2011. Early 2012 is not much difference really," he said.
The foundation has said the two developments will boost the local economy by an estimated £9m annually and create 90 jobs.
But some residents feel they are out of keeping with the town.
"If people come to Hastings they come here for the old town, fish and chips and to see the beach - they don't come here to see Picassos, " said lifelong resident Deeday White.
Ms Gilmore said the new gallery was a significant change for the town.
"People inevitably react to change and they react because they care," she said.