Eastbourne MP lobbies Lord Coe over Olympic torch relay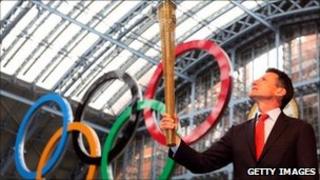 Eastbourne MP Stephen Lloyd has been lobbying for the Olympic torch relay to pass through the East Sussex town.
It was announced in May that the Olympic flame would visit Brighton and Hastings before being taken into London for the start of the 2012 Games.
A more detailed route naming all the areas the torch will pass through will be published later this year.
The Liberal Democrat MP said Eastbourne and Beachy Head would make the perfect backdrop for the relay.
Mr Lloyd said Lord Coe had written to him confirming that the organising committee would consider the town's request to be included in the route.
'Beautiful setting'
He added: "I'm delighted that Sebastian Coe and his committee have taken on board Eastbourne's commitment to welcome the Olympic torch.
"I am determined to see the torch carried along our seafront and held aloft at our pier, so that Eastbourne people can join in this historic occasion.
"The route along the cliff top to Beachy Head and down to Eastbourne seafront is surely one of the most beautiful settings across the whole of Britain."
The flame, which arrives in the UK in May 2012, will be taken on an 8,000-mile journey with 74 evening and island stop-overs on the London 2012 torch relay route.
Organisers have said 95% of the population will be within a one-hour journey time of the torch relay.
It will be in Brighton and Hove on 16 July, 2012, and Hastings in East Sussex on 17 July.
The torch's final destination is the Olympic Stadium on 27 July when the lighting of the cauldron at the opening ceremony will signify the start of the Games.