Worthing Birdman contest suspended due to strong winds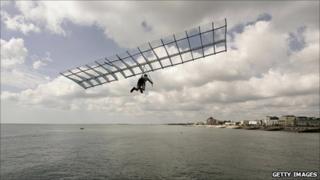 Worthing's Birdman competition, in which contestants attempt to fly off the town's pier with homemade gliders, has been cancelled due to strong winds.
The serious competitors attempted flights on Saturday but flights were suspended due to the windy conditions.
The so-called fun flyers are due to jump off the 35ft structure on Sunday. Organisers hope to resume flights if conditions improve.
There is a £10,000 prize for the person who flies furthest over 328ft (100m).
'Little disappointing'
The event is supported by Worthing Borough Council and costs about £60,000 to run.
A Birdman spokesman said: "It's a little disappointing but it's unavoidable.
"Our main concern is safety but hopefully the wind speeds will be kinder to us tomorrow."
The original competition in Bognor Regis was moved to Worthing for two years in 2008 amid fears over the safety of diving off a shortened Bognor pier.
But when the event returned to Bognor in 2010, the Worthing version remained.
Throughout the weekend, there will also be family entertainment including jet ski displays and music.
Last year, CBBC presenter Holly Walsh was injured after leaping from the pier.
Ms Walsh, who was raising money for charity, had to be rescued from the water after fracturing her arm.
Last month, bad weather caused Worthing's rival birdman event in Bognor Regis to be cancelled.