Future of St Anne's school in Lewes discussed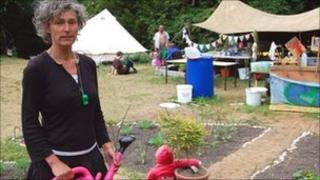 Residents are exploring ideas for the future use of a disused East Sussex school that was occupied by protesters for more than two months.
East Sussex County Council is hosting an open day at St Anne's school in Lewes for visitors to see the site and put forward suggestions.
A group called St Anne's Diggers (Stand) occupied the school from 1 May to 4 July.
Stand said it wanted to prevent the school being sold for housing.
The council has said it plans to sell the site of the special school which closed in 2007, but no decision had been made about its future use.
It has been looking at suggestions for potential use of part of the site such as allotments or a park.