Two dead in St Leonards holiday park caravan fire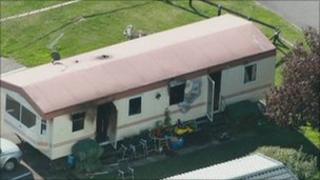 Two people died when a fire broke out at a caravan in a holiday park in East Sussex.
East Sussex Fire and Rescue Service were called to Combe Haven Holiday Park in Harley Shute Road, St Leonards, at 22:10 BST on Saturday.
Sussex Police said the occupants of the caravan, a man and a woman believed to be in their 40s, were declared dead at the scene.
Police and fire officers are investigating the cause of the fire.
Fire crews said they received calls reporting that a caravan was on fire at the holiday park.
'Valued and popular'
Four firefighters rescued an unconscious man and woman from the caravan.
Paramedics tried to resuscitate them, but they were pronounced dead at the scene.
A spokesman for Combe Haven said two employees and a neighbouring caravan owner tried to tackle the blaze before crews arrived.
He said: "Our team members and guests are shocked by this tragic accident.
"The owners of the caravan were valued and popular members of the community at Combe Haven."
The couple had been owners of the caravan since 2007, he added.