Worthing Birdman contestants leap off pier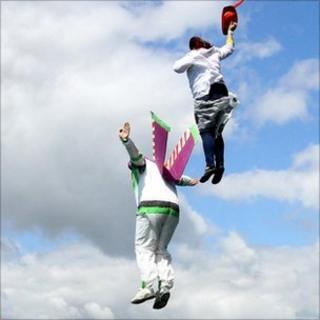 Contestants have taken part in Worthing's Birdman competition after strong winds forced the cancellation of the first day of the event.
The weather conditions meant only two out of nine serious contenders were able to fly from the pier in the fourth annual competition in West Sussex.
The so-called fun flyers joined the serious contestants in jumping off the 35ft structure on Sunday afternoon.
There was a £10,000 prize for the furthest flight over 328ft (100m).
None of the serious contenders managed to grab the £10,000 jackpot.
Final entrant Bill Brooks went closest by flying 78.4m (257ft) after spending 14 seconds in the air. He won prize money of £3,250.
Other entrants included John Ewing who will dress up as a house with balloons attached, inspired by the 2009 film Up.
Other machines have been inspired by Star Wars, Knight Rider and Doctor Who, complete with Tardis.
Also taking part was Joel Hicks who jumped off the side of the pier dressed as David Hasselhoff, complete with a yellow Baywatch vest.
'Very good day'
He was followed by Kerry Jennings and Lee Murray as Buzz Lightyear and Jessie from Toy Story.
The original competition in Bognor Regis was moved to Worthing for two years in 2008 amid fears over the safety of diving off a shortened Bognor pier.
But when the event returned to Bognor in 2010, the Worthing version remained.
The event is supported by Worthing Borough Council and costs about £60,000 to run.
Organiser Sharon Clarke said: "We have had a very good day of flying despite the winds picking up and we have had a lot of people raising a lot of money for charity."