Brighton Pride 2011 'model for the future'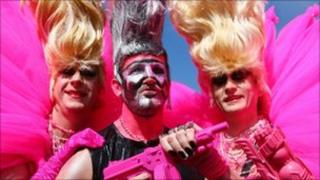 Organisers of Brighton Pride have hailed this year's festival as a model for future years despite not being able to tell if they broke even.
The 2011 festival, which culminated in a parade and party in Preston Park on Saturday, was the first in 19 years for which tickets were sold.
It followed criticism of overcrowding and the amount of rubbish left behind after the 2010 free event.
Organiser Judith Manson said it was too early to say how many tickets sold.
But she said between 33,000 and 50,000 attended the event.
"We haven't got all the figures in yet because the tickets were being sold from lots of different outlets," she said.
"We have lots of information to collect but looking at the numbers in the park, we were really, really pleased with the way it went."
'Good model'
Sussex Police said thousands of revellers were in the city for the "very successful" parade and party.
A total of 32 arrests were made for offences including suspected robbery, drunk and disorderly, drugs offences and assault.
One officer broke a leg while chasing after a man suspected of a public order offence.
Ms Manson said the parade had the maximum of 55 entries permitted.
"It went without any hitches, which is great," she said.
"The park was really busy and the crowds were in great spirits. Everybody commented on how different the atmosphere was this year.
"The production team and the clean-up operation have been tremendous this year. We cannot fault that.
"We have got a good model now - we just need to build on it."
James Ledward, from Gscene magazine, who has been critical in the past, said this year's event in Preston Park was like those held 10 years ago.
"After last year's event, the undercurrent in the community was that people were traumatised after being on the park and feeling unsafe," he said.
"This year people on the park had a very safe experience.
"It's the model for the future so long as it has not lost money.
"We need to know how many tickets have been sold and whether they have met their budget.
"We don't want a situation where we are accused of throwing a party we can't afford."