Gatwick runway to be resurfaced at night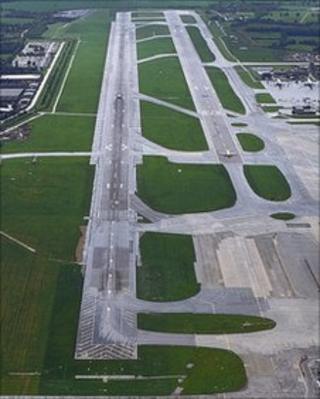 Plans are being put in place to resurface the main runway at Gatwick Airport as part of a £1bn investment.
Work on the two mile (3.3km) runway will be carried out at night, starting in March next year, to allow flights to continue without disruption.
Gatwick Airport Ltd said the project would involve resurfacing an area the equivalent of 100 football pitches with approximately 65,000 tonnes of asphalt.
Around 1,900 runway and taxiway lights will also be replaced.
'Military precision'
"With just seven working hours each night, we will remove and replace about 130 metres of runway at a time," said David Wilson, who is heading the project.
"The work will be planned and executed with military precision to ensure it is completed and inspected before the first flight is due to take off."
The runway at the West Sussex airport, which was sold by BAA in December 2009, sees up to 53 aircraft landing and taking off every hour and needs resurfacing every 11 years.
The work will be carried out by civil engineers VolkerFitzpatrick.
Gatwick will be one of the main gateways to the UK for the London Olympics on 2012.
The airport railway station, on the main London to Brighton line, is also undergoing improvements in time for the Games, funded by Network Rail.