Bracklesham Bay kite surfer 'risk' to beach users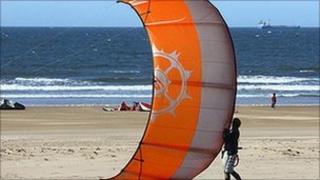 Residents of a West Sussex community are calling for a designated watersports zone to be moved away from homes which back on to the beach.
They say kite surfers at Bracklesham Bay are threatening safety and spoiling their enjoyment of the beach.
"There is a deserted section of the beach where there would be no conflict because there are houses," said resident Guy Davies.
Chichester District Council said the zone was introduced to increase safety.
The watersports area at Bracklesham Bay was introduced for a trial period last year and continued this summer.
"The council enforced a designated zone outside 12 houses which have 28 children," said resident Annie McDonald.
"It has become extremely dangerous. Our families and the general public are at risk."
'Clear marker'
Mr Davies said the watersports zone should be moved to the deserted four-mile stretch of beach towards Selsey.
James Fitch, who runs kite surfing lessons on the beach, said the wind direction tended to push surfers away from the bathing area.
"There is quite a clear marker and we haven't heard of any instances since the zone has been put into place of anyone not sticking to the rules," he said.
The council's sport and leisure manager, Sarah Peyman, said the zone was introduced after consultation with the Royal Society for the Prevention of Accidents (Rospa).
"Due to the increase in kite surfing there was increased risk of conflict between kite surfers and other beach users," she said.
"Rospa identified that zoning is the way to manage different beach users."