Crime assets pay for Sussex Police drugs dog Cooper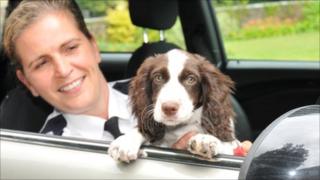 A seven-week old springer spaniel has become the latest recruit at Sussex Police where she will help the force fight drug and other serious crime.
The force bought Cooper after auctioning a Mini Cooper which officers confiscated from a Sussex drug dealer.
Police sold the car for £4,000 and gave the cash to the Crimestoppers charity and the force's dog unit.
Cooper needs to be trained before she starts work as a specialist drugs and explosives search dog next year.
Insp Di Lewis, from the dog unit, said: "Cooper is an instant hit here.
"She will need to grow and then go through careful and patient training before she is ready to hit the road, but initial signs are very positive.
"I'm sure that before long she will be out there helping put more criminals behind bars."