Hove residents told to remove pot plants from balconies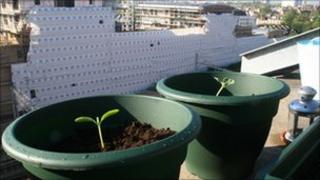 People have been told to remove pot plants from high rise balconies on a Hove estate.
Brighton & Hove City Council said two pot plants fell off balconies on the Clarendon Road estate last month, one nearly hitting a pedestrian.
Letters asked people to remove pots which were not secured to the balcony.
But resident Valerie Paynter said: "Instead of just ordering us rudely to remove our balcony plants they should have discussed ways of securing them."
'Softens the look'
A spokesperson for the Green party led-council said: "A pedestrian was nearly hit by a falling plant pot that we thought fell after being on the edge of a high rise balcony so our quick thinking community warden posted letters through to flats with plants in similar positions urging them to put them in safer places.
"It goes without saying but anything - including furniture - that might fall from a high rise balcony should be kept well away from the edge."
But Ms Paynter would like to see more plants on balconies on the estate and believes the council have handled the situation "incredibly badly".
She said: "It's so lovely to see plants tumbling down the walls - it softens the looks of the buildings.
"When you've got people trying to improve things, instead of slapping them down, why can't they [the council] say 'we'd like to help you do in it a safe way'?
"People should be encouraged to grow plants on the balcony."
Ms Paynter also said the council was aware of masonry falling off buildings on the estate but nothing had been done about it.
A council spokesman said: "Buildings do weather and small bits of masonry have been known to fall off, so our building control team monitors the situation to ensure safety."