Third Sussex mobile phone shop robbery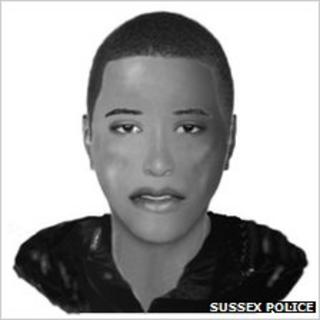 A mobile phone shop in Brighton has been robbed by a man armed with a hammer who then rode off on a BMX-style bicycle.
The man entered Replay Exchange in Western Road at 09:25 BST on Tuesday and ordered the manager to the floor.
Sussex Police are linking the robbery to a similar attack in Hove on 13 July and one in Worthing on 7 July.
The suspect is described as black, thin, 5ft 5in to 5ft 7in tall and in his late teens to mid 20s.
During the Brighton robbery Sussex Police said he had two shaved lines on the left of his head.
Staff threatened
In the Worthing raid witnesses described him as having a distinctive chin-strap beard and thin moustache.
At about 12.30 BST on 13 July the suspect walked into the Carphone Warehouse in George Street, Hove, and threatened staff.
He used a pair of wire-cutters to remove two mobile phones from the display before riding off on a bicycle.
During the Worthing robbery on 7 July at the Carphone Warehouse, Montague Street, staff were threatened with a knife as the store was being opened by the manager at 09:00 BST. The suspect rode off on a bicycle.
Sussex Police have issued an e-fit and are appealing for any witnesses to contact them.