Dawn French donates giant dog statue to Shoreham centre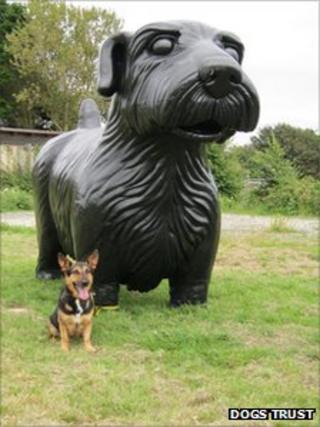 Comedian Dawn French has donated a giant sculpture of a dog to a rehoming centre in West Sussex.
The Dogs Trust centre in Shoreham cares for about 70 dogs at any one time.
Ms French commissioned the work depicting Poo, a character from her book A Tiny Bit Marvellous, to appear with her in a television advert.
Vicky Heaton, from the trust, said: "We're very grateful to Dawn for this kind gift. Poo has become quite an attraction."
She added that the large statue was drawing people to the centre which means they are also looking at the dogs which need a new home.
Ms French, who is a dog owner herself, said: "I'm delighted that Poo has found a new home.
"I hope that some of that success rubs off for Dogs Trust and that Poo helps the centre to find loving homes for their canine residents."
The statue has been placed in the exercise field and, according to Ms Heaton, looks like a Scottie dog called Cedric who was rehomed by the centre a few years ago.
She said the centre staff were thinking of renaming the statue in Cedric's honour.