Eastbourne hospital to return stillbirth donation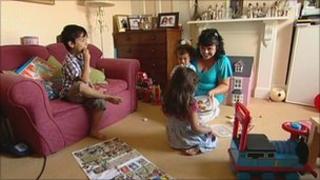 An East Sussex couple who raised £7,000 for their local hospital after their daughter was stillborn have been told they can have the money back.
Monica Corrina Kavakli and Aydin Kavakli donated the cash eight years ago towards a bereavement room at Eastbourne District General Hospital.
They complained it was never built, and the hospital emailed them on Thursday to say it would return the money.
"The decision has given us a certain degree of peace of mind," they said.
The couple made their donation for a bereavement room after their daughter Ella was stillborn at the hospital on 3 July 2002.
East Sussex Healthcare NHS Trust said the money raised had been ring-fenced for the bereavement room but a long-running campaign against changes to the hospital's maternity services contributed to a building delay.
'Feel saddened'
The family told the BBC on Wednesday that they wanted the money returned because the hospital had failed to spend it.
Chief executive of the trust, Darren Grayson, emailed Mr and Mrs Kavakli the following day.
The family said in a statement: "Although part of us feels saddened that it has had to come to this, the decision made by Darren Grayson and his team to return our donation to us, has for the first time in eight very long years given us a certain degree of relief, hope and peace of mind."
"Next July Ella should have been celebrating her 10th birthday.
"Now we can focus all our efforts on something really positive, rather than exhausting all our energies on what was beginning to feel like an endless battle.
"We have many, many ideas for projects to help other parents who have lost a child as we did."
Work on the bereavement room, which will cost £53,000 in total, is expected to start in September 2011.