Joseph Peachey jailed for trying to smother father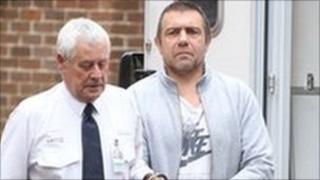 A man who tried to murder his terminally ill father by smothering him in his hospital bed has been jailed for six-and-a-half-years.
Albert Peachey, 79, died from medical complications at Eastbourne District General Hospital in December, five days after son Joseph's suffocation bid.
Lewes Crown Court was told a nurse saw Joseph with one hand over his father's mouth and the other pinching his nose.
Peachey, who was convicted in June, was also heard urging Albert "to just die".
During the four-day trial the 49-year-old, of Badlesmere Road, Eastbourne, admitted four counts of assault for attacking a nurse, a security guard and two police officers at the hospital on the day of the murder bid, on 20 December last year.
A Taser had to be used to restrain him.
Judge Richard Hayward said he had previous convictions including attempting to inflict grievous bodily harm, possession of knives and affray.
The defendant was sentenced to a total of six months for the assault offences, along with six years for the attempted murder offence.
Judge Hayward said: "While I have no doubt that you were upset, your violent reaction, I'm satisfied, was also borne out of not being able to do what you wanted.
"Your father was completely vulnerable.
"He had absolutely no way of protecting himself and clearly such people must be protected from people who seek to end their lives prematurely."
During the trial, jurors heard how Mr Peachey, who had dementia, had undergone a major operation for bowel cancer on 30 November but failed to make a recovery, and later suffered a number of infections.
They were told members of his family, including Peachey, had agreed for a "do not resuscitate sign" to be placed over his bed.
His condition continued to worsen and he suffered a "massive" stroke, rendering him unconscious and unresponsive with no chance of him ever recovering.
Officer punched
After Peachey, who regularly visited his father in hospital, was caught trying to smother his father on 20 December, senior staff nurse Robert Wilson told him to stop immediately, to which he replied he wanted to be left alone with his father for 15 minutes.
Peachey then flew into a rage, punching Mr Wilson and then hitting a security guard twice when he was called to help.
When police arrived shortly before 21:00 GMT, Peachey punched an officer during a struggle, and bit another through his uniform.
Firearms officers were deployed to the hospital and he was subdued with a Taser gun and Captor spray before being arrested.
Jurors heard Peachey later denied he had been trying to suffocate his father, claiming he was actually checking his false teeth.