Cars for sale 'taking over Brighton and Hove streets'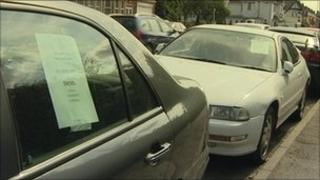 Car owners selling vehicles are parking them next to others with "For Sale" signs and creating problems in Brighton and Hove, the council has said.
Brighton and Hove City Council said two badly affected roads were Portland Road in Hove and Elm Grove in Brighton, and residents' complaints had increased.
Officers can fine a person up to £2,500 if they place two or more cars for sale in one street, the council said.
It urged people to consider how their actions affected residents.
Councillor Ben Duncan said: "It really makes a difference to the environment when large numbers of these vehicles are parked up in one area."
But he said that when cars were taxed and parked lawfully, the council had no choice but to appeal to the private sellers' "better natures and sense of shared community".