Rail smart card trial for Brighton to Seaford line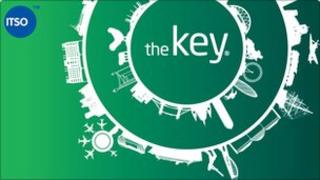 A reusable smart card giving rail commuters an alternative to paper tickets will be trialled between Brighton and Seaford.
The Southern Railway smart card, called "the key", will be rolled out elsewhere if successful.
Commuters will be able to use the card for season, single and return tickets when the trial starts in September.
Southern's development director, Alex Foulds, said the limited trial was "just the start" for the card.
"The key smart card will evolve over time with many possibilities for the future," he said.
"For example, in time we will be able to tailor ticket products such as early-bird season tickets for those who travel earlier than the morning rush hour.
"There will also be opportunities for integrated travel tickets such as rail-bus tickets."
He added a carnet-style season ticket for less frequent travellers might be introduced, where commuters buy a set number of single tickets over a season, which they can use when they want to.
The trial, which is expected to last for three months, will involve 100 commuters and will take place at Brighton, London Road, Moulsecoomb, Falmer, Lewes, Southease, Newhaven Town, Newhaven Harbour, Bishopstone and Seaford stations.